Can recalls have a capacity?
Recalls can be set up with a daily capacity on scheduler plus.
This can be located for stores using scheduler plus by going to settings > appointments > campaigns > "Add"
You will want to set this up using the recalls OEM ID and other information, and you can then set daily limits at the bottom: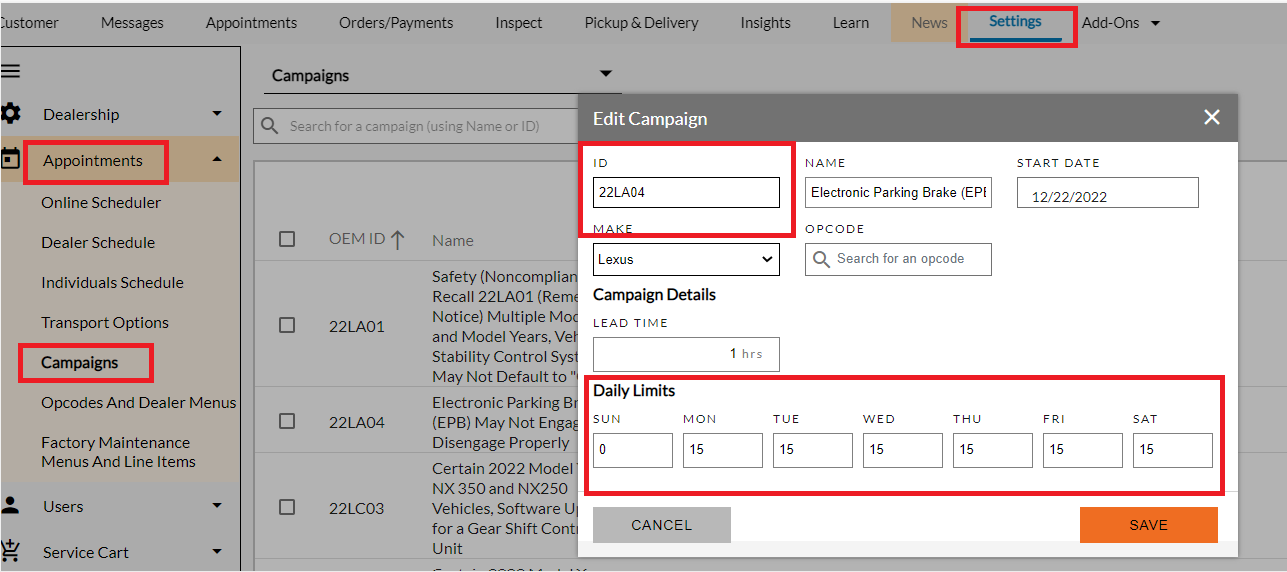 We need a third party (ex. Recall Masters) to be able to schedule recalls in myKaarma.
How to set up a third party with access to myKaarma
To allow third party access to schedule appointments and recalls in myKaarma, they will need to be added as a user in myKaarma just as a typical user would be. This is done by going to settings > users > manage users. They will receive an invite to the system where they can start scheduling appointments and recalls.
Can automatic communication be sent out for recalls
Bulk texting/automated texts are not currently available for recalls at the moment.
How do we close a recall in myKaarma once it is done?
Recall statuses are handled by recall masters, and closing recalls can not be done in myKaarma.
Where can all recalls for all customers be viewed?
There is currently no location where all active recalls for all customers can be viewed. When scheduling appointments, once a vehicle is selected the campaign/recall button will appear red if there are active recalls for this vehicle, like so:

From here you can view any of the active recalls and add them to the customer's appointment/service: