TextDirect is a feature that allows customers to text a landline and the response will show up in the myKaarma app like any other message, allowing to you capture new business and prevent existing service conversations from breaking. Therefore, the dealership can respond to the customer and the response will show up as the dealership's general myKaarma phone number on the customer's end.
Benefits:
Not missing any text from customers

Customers are able to text existing numbers, no need to look for a specific number. They can text whichever dealer number they have or can find

Dealer maintains ownership of all numbers

Direct lines, numbers on business cards, main department lines, Google profile number

No need to print new cards, replace signage, or update website

Little additional setup, will work seamlessly. No change to voice line setup, no additional hardware or software

Increased compliance by routing all text communication through myKaarma
FAQs:
1. What if a customer texts a service advisor's direct landline phone number?
The system will forward all communication to the conversation thread owner's myKaarma account. The advisor now has the option of texting the customer back and the response will show up as the dealership's myKaarma phone number.
If the customer does not have an open thread conversation, the communication will be routed to the 'unassigned messages' subtab within the messages tab. We also have the ability to enable the following user setting `Receive notifications for each unassigned inbound communication` so specific users can receive a notification every time a new unassigned message comes in. If you would like this setting enabled, feel free to call or email myKaarma support at (562) 349-1367 or support@mykaarma.com and we would be happy to assist you.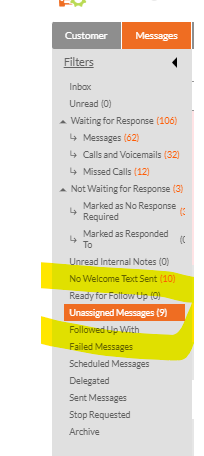 2. What if the customer texts a different service advisor's direct landline by mistake?
The texts will still go to the customer's conversation thread owner (the user who owned the conversation thread before that text was sent).